When you need to build large sites, the common CMS-es are often too limited to meet all needs. The Enterprise Content Management Systems (ECM) allow us to develop large and complex applications in a shorter time. In this post we have collected 14 ECM-es developed with the most important programming languages and suitable for all systems and requirements.
Comparison Table
Some companies do not officially declare the price of their product, or the language in which it was developed and so some fields in the table were not filled.
| Name | Latest Version | Price | Language | Word Integration | Multilingual | Plugins | Themes | Multi User | Role Cap. | Clean URLs |
| --- | --- | --- | --- | --- | --- | --- | --- | --- | --- | --- |
| SilverStripe | 2.4.3 | Free | PHP | Yes | Yes | Yes | Yes | Yes | Yes | Yes |
| Gentics Content.Node | 4 | | | Yes | Yes | Yes | Yes | Yes | Yes | Yes |
| Sitecore | | Starts at $ 10.000 | .NET | Yes | Yes | | Yes | Yes | Yes | Yes |
| Amaxus | | | PHP | Yes | Yes | Yes | Yes | Yes | Yes | Yes |
| Percussion CM System | 6.7 | | | Yes | Yes | Yes | Yes | Yes | Yes | Yes |
| Bricolage CMS | 2.0 | Free | Perl | No | Yes | No | Yes | Yes | Yes | Yes |
| eZ Publish | 4.4.0 | Free + Paid Support | PHP | Yes | Yes | Yes | Yes | Yes | Yes | Yes |
| Browser CMS | | Starts at $ 25.000 | J2EE | Yes | No | Yes | Yes | Yes | Yes | Yes |
| coreDNA | | | PHP | Yes | No | Yes | Yes | Yes | Yes | Yes |
| Bitrix | 9.5 | Starts at $ 249 | PHP / .NET | Yes | Yes | Yes | Yes | Yes | Yes | Yes |
| Expression Engine | 2.1.1 | Starts at $ 99.95 | PHP | Yes | Yes | Yes | Yes | Yes | Yes | Yes |
| TYPO3 | 4.4 | Free for Personal Use | PHP | Yes | Yes | Yes | Yes | Yes | Yes | Yes |
| Vivvo | 4.5 | Starts at $ 245 | PHP | Yes | No | Yes | Yes | Yes | Yes | Yes |
| Umbraco | 80671 | Free + Paid Support | .NET | Yes | Yes | Yes | Yes | Yes | Yes | Yes |
ECM-es
This is the full list of ECM-es listed above. Go on to read a brief introduction of each software.
SilverStripe
SilverStripe CMS is an open source web content management system used by governments, businesses, and non-profit organisations around the world. It is a power tool for professional web development teams, and web content authors rave about how easy it is to use.
As a platform, SilverStripe CMS is used to build websites, intranets, and web applications. The modern architecture of SilverStripe CMS allows organisations to keep pace with innovation on the web. SilverStripe CMS enables websites and applications to contain stunning design, great content, and compelling interactive and social functions.
Link: http://www.silverstripe.com/
Gentics Content.Node
Gentics Content.Node (Enterprise CMS) offers your employees a simple editor. Costs for training can be reduced while the acceptance of your intranet or website increases through the power of the "crowd".
This enterprise suitable Content Management System fits into your infrastructure and supports you while managing many projects in one system. Multilingual functions allow you to publish your contents in different languages if needed. Editing of multimedia content is easier for your employees, thanks to live editing directly on the intranet, website or our CMS-Wiki editing mode, which leads to an increased commitment.
Individual enhancements on your intranet, website or extranet can be expanded in any direction and will be displayed on your webservers, JBoss portal, Microsoft Office SharePoint portal, SAP Netweaver portal, Facebook page or Twitter account.
Link: http://www.gentics.com/
Sitecore
Sitecore CMS makes it effortless to create content and experience rich websites that help you achieve your business goals such as increasing sales and search engine visibility, while being straight-forward to integrate and administer. Sitecore lets you deliver sites that are highly scalable, robust and secure. Whether you're focused on marketing, development and design, or providing site content, Sitecore delivers for you.
Link: http://www.sitecore.net/
Amaxus
A beautiful CMS interface enables people across your business to create and manage sophisticated web content quickly. Open standards ensures your multilingual, SEO enhanced websites can scale with you. Comprehensive features deliver critical services to your ever-demanding audience. This is Amaxus CMS. The Amaxus Web CMS offers a sophisticated feature set, across hundreds of highly-configurable modules. From enterprise-level security and permissions, to marketing-focused social media and search engine optimisation tools, the interface enables every user – from novice to expert – to create what they want, how they want.
Link: http://www.amaxus.com/
Percussion CM System
Percussion CM System is an enterprise web content management platform that helps businesses, government agencies, and organizations power cutting-edge websites, reusing content from many sources across multiple sites and channels to improve their interactions with customers.
CM System uses standards-based technologies that ensure that our customers have ultimate freedom to customize, extend, and integrate the platform according to their needs. Whether your organization is one-hundred percent Java, a .NET shop, or running Cold Fusion and PHP apps side by side, CM System will map to your existing technologies rather than convert them.
Who's it for? Organizations with diverse technical requirements, legacy or custom web applications, a strong development team, and the need to make it all work together.
Link: http://www.percussion.com/
Bricolage CMS
Bricolage is an open-source, enterprise-class content management, workflow, and publishing system that greatly simplifies the tasks of creating, managing, and publishing vast libraries of content.
Bricolage is designed to scale to the needs of the largest organizations. Scalability is ensured by Bricolage's ability to distribute the load between separate database, application, preview, and distribution servers. Because Bricolage operates independent of the delivery of content to the final audience, your site's front-end servers can scale independently of Bricolage. Bricolage includes support for a pluggable authentication architecture, and in addition to its built-in authentication, it has a module for authentication against an LDAP directory server. Authentication can be limited to members of a directory group, and supports LDAP v.3 and TLS connectivity. If your organization relies on a directory server, such as Windows Active Directory, Novel eDirectory, or OpenLDAP, this feature is for you.
Link: http://www.bricolagecms.org/
eZ Publish
eZ Publish Enterprise is a web content management system engineered to create value through streamlined multichannel delivery. eZ's intuitive and simple editing solution, innovative web engagement management tools, and advanced portals and collaboration facility work in harmony to create unparalleled ease of use and efficiency for our customers. Combining the strengths of a sophisticated content engine and data model with one of the market's most intuitive editing workspaces, eZ Publish Enterprise provides a cost-efficient way to realize the benefits of community innovation while enjoying premium software vendor reliability.
Link: http://ez.no/
Browser CMS
BrowserCMS is a content management system for creating, managing, and publishing dynamic, information driven websites. "Content" may be traditional elements such as text, images, or files. However, BrowserCMS is also designed to support rich "content objects," engineered to an organization's business processes. For example, our content management system is preconfigured to support such searchable, dynamic "content objects" as press releases, job postings, a member locator/business directory, and an events calendar.
BrowserCMS is an easy-to-use, 100% browser-based content management system that is installed on the same web server that hosts your website. There is nothing to be installed or supported on anyone's individual desktop machine.
Link: http://www.browsercms.com/
coreDNA
coreDNA website solutions put the brand owner in control, making it quick and easy to upload and edit website content and images while streamlining integrated marketing campaigns. Incorporating a range of interactive applications integrated with social elements, our web solutions are tied to the execution of business outcomes, helping achieve measurable results online and offline. coreDNA website solutions offer businesses the opportunity to utilize a range of products from the coreDNA modular suite to target customers.
Link: http://www.coredna.com/
Bitrix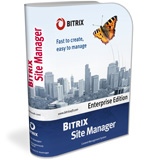 Bitrix Site Manager is a powerful, secure, full-featured content management solution that enables you to create and manage corporate websites. Using this web application, you can build advanced corporate web resources, community websites, e-Stores, social networks, educational portals, etc. The product is supplied with the full source code.
Link: http://www.bitrixsoft.com
Expression Engine
ExpressionEngine is a commercial product built on an Open Source foundation, giving you the best of both worlds. As a commercial product, ExpressionEngine is supported by a team of committed developers and technical support specialists. With its Open Source foundation, ExpressionEngine's codebase is 100% open, transparent, and extensible. The core of ExpressionEngine is built on CodeIgniter used by hundreds of thousands of PHP developers worldwide.
Link: http://expressionengine.com/
TYPO3
TYPO3 is a free Open Source content management system for enterprise purposes on the web and in intranets. It offers full flexibility and extendability while featuring an accomplished set of ready-made interfaces, functions and modules.
Link: http://typo3.com/
Vivvo
Vivvo CMS is a news, article and media publishing software that enables you to create a full website easily without any knowledge or experience with HTML, Web site design or management through the comfortable Ajax-based site structure management interface and high flexibility of design, content, and functionality integration.
It gives you the power to create different layouts and different styles for each section of the site, different user groups to help you manage your content with a built-in privilege system, and above all, the ultimate Search Engine ranking capability.
Link: http://www.vivvo.net
Umbraco
Umbraco is the choice of many organizations because of its no-cost, open-source licensing, its simplicity, and its unlimited potential.  Umbraco provides a full-featured web content management system that is easy to use, simple to customize, and robust enough to run the largest sites such as wired.co.uk and asp.net.
Umbraco is a free, open-source web cms built on the Microsoft .NET Framework.  It is easy to use, simple to understand, and is highly extensible using industry-standard languages and patterns such as HTML, CSS, jQuery, and C#.  Umbraco is powerful and flexible whether you're a cutting-edge designer or a hard-core code junkie.
Link: http://umbraco.org/